Your online source for information about the Religious Society of Friends (Quakers).

Except for a few reprinted old documents, articles on this site are copyrighted by the author, and may not be reprinted without permission. You are, however, free to link to any article or page on this site without prior permission although it's nice to know who's linking to us.

Bill Samuel
Webservant
QuakerInfo.com
Quaker Tour of England, Page 18 of 22
York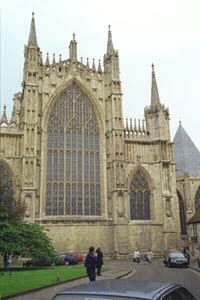 York Minster
photo by Bill Samuel, 25 June 1998
The York Minster is the largest Gothic cathedral in Northern Europe, and has the oldest stained glass windows in England. The Minster was first built in the 12th century, but its foundations go back to 627, when Northumbrian kings were baptized there. This vast cathedral is visible from all over the city.
The official name of the York Minster is the Metropolitan Church of St. Peter. It is both a cathedral (a church with a bishop's or archbishop's throne) and a minster (a centre of Christian teaching or ministering). It is the mother church of the Northern Province of the Church of England, with the Archbishop of York as its Primate.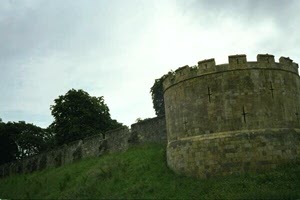 York city wall
photo by Bill Samuel, 25 June 1998
Much of the city wall is still intact. You can walk on top of it for long stretches.