Your online source for information about the Religious Society of Friends (Quakers).

Except for a few reprinted old documents, articles on this site are copyrighted by the author, and may not be reprinted without permission. You are, however, free to link to any article or page on this site without prior permission although it's nice to know who's linking to us.

Bill Samuel
Webservant
QuakerInfo.com
Imagination & Spirit
A Contemporary Quaker Reader
A QuakerInfo.com review by Bill Samuel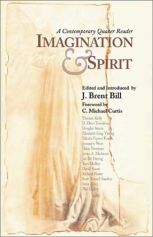 Imagination & Spirit: A Contemporary Quaker Reader, Edited and Introduced by J. Brent Bill, Friends United Press, 2002, 257 pages, paperback, list price $19 U.S. Click cover image or book title to order.

J. Brent Bill is director of the Earlham School of Religion Annual Writing Colloquium, and is both an experienced writer and a teacher of writing. He has long been active in the Society of Friends (Quakers), of which he is a recorded minister and former pastor. If anyone should be able to do a good job of producing a contemporary Quaker reader, certainly Brent Bill should be. And this effort does not disappoint.

The book provides excerpts of writings by 15 Quaker authors. The earliest selection was first published in 1940, and the latest in 2001. The writers have all published in the popular market. This is a selection of Quaker writers who have all proven quite popular far beyond the Quaker community. The ability to produce such a distinguished collection demonstrates that in the field of literature, as in other areas of life, Quakers have had influence far beyond our small number. And Bill has not attempted to present all contemporary Quaker authors who have been widely read outside of the Society of Friends.

In the early days of Quakerism, almost all published works by Friends would have been defenses of the Quaker understanding of Christianity and accounts of how the life of faith was lived out by Friends. Fiction was looked upon with great suspicion.

Today, the range of writing by Quaker authors is much broader. It still includes outstanding religious literature. This volume includes excerpts from two of the most important Christian devotional and spiritual development books of the 20th century - Thomas Kelly's A Testament of Devotion and Richard Foster's Celebration of Discipline. Also included are excerpts from noted religious writers D. Elton Trueblood and Douglas Steere, as well as reflections on spiritual living by less well known writers. But these are only part of the tapestry of contemporary Quaker writing in this volume.

The range of writing includes historical fiction, children's literature, humor and even a mystery. Some of the better known writers represented are Jessamyn West, Daisy Newman and James Michener. The volume demonstrates much of the breadth of Quaker writing today.

Regardless of genre, each piece in the volume sheds light on Quaker faith understandings and how they are lived out. The volume seems to demonstrate that active Quakers who are writers are generally drawn to reflect their faith in their writings. The views expressed may represent more variety in faith understanding than among early Friends, but they all express the deeply felt sense of Quakers that our faith has profound impact on the way we live our lives day by day.

Each piece in this volume is first rate. The quality and the content of the writing will surely draw many readers to seek out more of the writings of some of the authors included. As well as providing an indication of the depth and breadth of contemporary Quaker writing, the volume serves as a sampler helping readers select writers to explore in more depth.

Bill includes very helpful introductions to each of the writers, and very brief introductions to each selection. He also includes an Introduction to the book which is a quick overview of the history of Friends, with particular attention to Quaker writing. This will help particularly non-Friends to put the contemporary writings in a broader context.

I heartily recommend Imagination & Spirit. You will not regret the time spent reading this volume.