Your online source for information about the Religious Society of Friends (Quakers).

Except for a few reprinted old documents, articles on this site are copyrighted by the author, and may not be reprinted without permission. You are, however, free to link to any article or page on this site without prior permission although it's nice to know who's linking to us.

Bill Samuel
Webservant
QuakerInfo.com
Bill Samuel's Bio
Bill Samuel, the Webservant of QuakerInfo.com, has over four decades of experience in the Religious Society of Friends (Quakers), serving in leadership positions from the local to the denominational levels. He served as Contributing Editor for Quakerism at Suite101.com from July 1998 to February 2002. He serves as Webservant for Friends in Christ, as well as that of Consistent Life (of which he is President), and was a successful online author at the now closed Themestream site. He has also written for print publications such as Quaker Religious Thought, Quaker Life and The Friend.

Bill long had formal ties with three branches of the Society of Friends. He was a member of Adelphi (MD) Friends Meeting, which is a part of both Friends General Conference (FGC) and Friends United Meeting (FUM). He was an affiliate member of Rockingham Friends Meeting, part of Ohio Yearly Meeting (Conservative). With a fourth branch, Evangelical Friends International (EFI), he had no formal membership ties but a number of friendly associations.

In 2005, Bill resigned from his Friends meeting and joined Cedar Ridge Community Church, a nondenominational faith community frequently identified with the loose "Emerging Church" movement. Since that time, Bill has sought to foster cross-fertilization between Quakerism and the Emerging Church movement.

In 2013, Bill joined Friends of Jesus - Metro DC Area, an innovative, missional, Christian Quaker community using a multiplying small group model and not affiliated with any major branch of Quakers, but networked through Friends of Jesus Fellowship with similar groups across the country and those interested in establishing new groups. Bill's roles in Friends of Jesus include leading one small group and serving as Treasurer.

Bill is a retired civil servant who spent much of his career in the acountability profession. He has been happily married since 1977.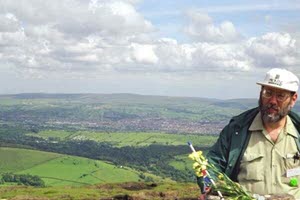 Bill Samuel on Pendle Hill, June 22, 1998