Your online source for information about the Religious Society of Friends (Quakers).

Except for a few reprinted old documents, articles on this site are copyrighted by the author, and may not be reprinted without permission. You are, however, free to link to any article or page on this site without prior permission although it's nice to know who's linking to us.

Bill Samuel
Webservant
QuakerInfo.com
Quaker Tour of England, Page 14 of 22
Kendal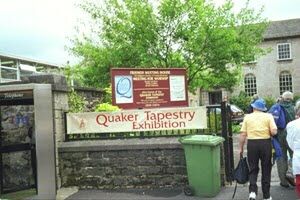 Kendal Friends Meetinghouse
photo by Bill Samuel, 23 June 1998
The Kendal Meetinghouse is on land purchased for the first Friends (Quaker) meetinghouse on the site in 1687. The site has been used for Quaker worship ever since. The current Meetinghouse dates from 1816.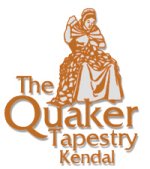 The Quaker Tapestry Exhibition has been housed in the Kendal Meetinghouse since 1994. The Meeting consisted largely of elderly people, who had wanted to sell the Meetinghouse but couldn't because of its historic designation. At the same time, the Quaker Tapestry needed a permanent home.
In January 1981, Anne Wynn-Wilson began teaching an 11-year-old boy at the Taunton Friends Meeting. She intended to make a long frieze, illustrated with stories about Quaker historical figures. The boy Jonathan asked Anne if it could be done in embroidery. This was the start of the Quaker Tapestry.
In the next 15 years, more than 4,000 people of all ages from 15 countries contributed to the 77 panels. In addition to historical figures, the panels illustrate Quaker testimonies, events, projects, institutions and more. The Exhibition is open six days a week from spring to late autumn each year, staffed by volunteer stewards. The Exhibition includes embroidery demonstrations, a video, costume display and gift shop, as well as the Tapestry panels. The Exhibition Centre also offers workshops and courses.
NOTE: I have no photographs of the panels because photography is not permitted in the Exhibition Centre.