Your online source for information about the Religious Society of Friends (Quakers).

Except for a few reprinted old documents, articles on this site are copyrighted by the author, and may not be reprinted without permission. You are, however, free to link to any article or page on this site without prior permission although it's nice to know who's linking to us.

Bill Samuel
Webservant
QuakerInfo.com
Quaker Tour of England, Page 15 of 22
Lancaster Castle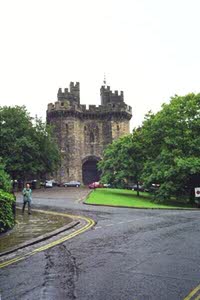 Lancaster Castle
photo by Bill Samuel, 24 June 1998
Lancaster Castle dates from the 11th century, but has been built upon and rebuilt in subsequent centuries. In the days of early Friends, it was used as a courthouse and prison, as it still is today.
Early Friends frequently suffered imprisonment for offenses such as refusing to take the oath of allegiance, illegal meetings, and refusing hat honor. Lancaster Castle was one place where they were imprisoned. Friends spoke the Truth boldly in the courts, and carried on their witness while imprisoned. George Fox writes about some experiences with trials and imprisonment in Lancaster Castle in the Journal of George Fox, Chapter XV, In Prison for not Swearing, 1662-65:
The sessions coming on, I went to Lancaster, and appeared according to my engagement. There was upon the bench Justice Fleming, who had bid five pounds in Westmoreland to any man that would apprehend me, for he was a justice both in Westmoreland and Lancashire. There were also Justice Spencer, Colonel West and old Justice Rawlinson, the lawyer, who gave the charge, and was very sharp against Truth and Friends; but the Lord's power stopped them.

The session was large, the concourse of people great, and way being made for me, I came up to the bar, and stood with my hat on, they looking earnestly upon me and I upon them for a pretty space.

Proclamation being made for all to keep silence upon pain of imprisonment, and all being quiet, I said twice, "Peace be among you."

The chairman asked if I knew where I was. I said, "Yes, I do; but it may be," said I, "my hat offends you. That's a low thing; that's not the honour that I give to magistrates, for the true honour is from above; which," said I. "I have received, and I hope it is not the hat which ye look upon to be the honour."

The chairman said they looked for the hat, too, and asked wherein I showed my respect to magistrates if I did not put off my hat. I replied, "In coming when they called me." Then they bade one take off my hat.

After this it was some time before they spoke to me, and I felt the power of the Lord to arise. After some pause old Justice Rawlinson, the chairman, asked me if I knew of the plot. I told him I had heard of it in Yorkshire by a Friend, who had it from the high-sheriff. They asked me whether I had declared it to the magistrates. I said, "I sent papers abroad against plots and plotters, and also to you, as soon as I came into the country, to take all jealousies out of your minds concerning me and my friends; for it is our principle to declare against such things."

They asked me if I knew not of an Act against meeting. I said I knew there was an Act that took hold of such as met to the terrifying of the King's subjects, were enemies to the King, and held dangerous principles; but I hoped they did not look upon us to be such men, for our meetings were not to terrify the King's subjects, neither are we enemies to him or any man.

Then they tendered me the oaths of allegiance and supremacy. I told them I could not take any oath at all, because Christ and His Apostle had forbidden it; and they had sufficient experience of swearers, first one way, then another; but I had never taken any oath in my life.

Then Rawlinson asked me whether I held it was unlawful to swear. This question he put on purpose to ensnare me; for by an Act that was made those were liable to banishment or a great fine that should say it was unlawful to swear. But I, seeing the snare, avoided it, and told him that "in the time of the law amongst the Jews, before Christ came, the law commanded them to swear; but Christ, who doth fulfil the law in His gospel-time, commands not to swear at all; and the apostle James forbids swearing, even to them that were Jews, and had the law of God."

After much discourse, they called for the jailer, and committed me to prison.

I had about me the paper which I had written as a testimony against plots, which I desired they would read, or suffer to be read, in open court; but they would not. So, being committed for refusing to swear, I bade them and all the people take notice that I suffered for the doctrine of Christ, and for my obedience to His command.

Afterwards I understood that the justices said they had private instructions from Colonel Kirby to prosecute me, notwithstanding his fair carriage and seeming kindness to me before, when he declared before many of them that he had nothing against me.

Several other Friends were committed to prison, some for meeting to worship God, and some for not swearing; so that the prison was very full. Many of them being poor men, that had nothing to maintain their families by but their labour, which now they were taken from, the wives of several went to the justices who had committed their husbands, and told them that if they kept their husbands in jail for nothing but the truth of Christ, and for good conscience' sake, they would bring their children to them to be maintained.

A mighty power of the Lord rose in Friends, and gave them great boldness, so that they spoke much to the justices. Friends also that were prisoners wrote to the justices, laying the weight of their sufferings upon them, and showing them both their injustice and want of compassion towards their poor neighbours, whom they knew to be honest, conscientious, peaceable people, that in tenderness of conscience could not take any oath; yet they sent them to prison for refusing to take the oath of allegiance.



[Much material omitted here]


While I was prisoner in Lancaster Castle there was a great noise and talk of the Turk's overspreading Christendom, and great fears entered many. But one day, as I was walking in my prison chamber, I saw the Lord's power turn against him, and that he was turning back again. And I declared to some what the Lord had let me see, when there were such fears of his overrunning Christendom; and within a month after, the news came that they had given him a defeat.

Another time, as I was walking in my chamber, with my eye to the Lord, I saw the angel of the Lord with a glittering drawn sword stretched southward, as though the court had been all on fire. Not long after the wars broke out with Holland, the sickness broke forth, and afterwards the fire of London; so the Lord's sword was drawn indeed.

By reason of my long and close imprisonment in so bad a place I was become very weak in body; but the Lord's power was over all, supported me through all, and enabled me to do service for Him, and for His truth and people, as the place would admit. For, while I was in Lancaster prison, I answered several books, as the Mass, the Common-Prayer, the Directory and the Church-Faith, which are the four chief religions that are got up since the apostles' days.