Your online source for information about the Religious Society of Friends (Quakers).

Except for a few reprinted old documents, articles on this site are copyrighted by the author, and may not be reprinted without permission. You are, however, free to link to any article or page on this site without prior permission although it's nice to know who's linking to us.

Bill Samuel
Webservant
QuakerInfo.com
Quaker Tour of England, Page 6 of 22
Mancetter Parish Church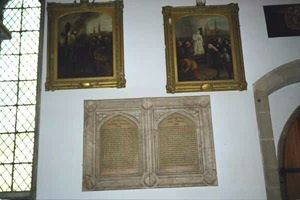 Mancetter parish church - martyrs' memorial
photo by Bill Samuel, 20 June 1998
There were many religious martyrs during the struggles in Britain during the 17th century. The Mancetter parish church contains memorials to Robert Glover and Joyce Lewes, who were killed by Catholics during the reign of Queen Mary. George Fox refers to his mother as being "from the stock of the martyrs." He may have been referring to her being in their spirit, rather than being a genetic descendant.