William Penn
by Bill Samuel
Originally published October 1, 2000 at Suite101.com
William Penn (1644-1718) is surely one of the best known of Friends from the early years of Quakers. He was born and spent most of his life in England, but is noted for the role he played in early American history. There are a number of different aspects of Penn's life that are noteworthy, and here I will just outline briefly a few of them.
Religious Nonconformist and Writer
"No pain, no palm; no thorns, no throne; no gall, no glory; no cross, no crown." - from No Cross, No Crown
Penn was interested in matters of the spirit from his childhood. At the age of twelve he heard a traveling Quaker minister, Thomas Loe. Penn was apparently reached by the message that Loe brought. Penn sought the authentic Christian message, not institutional religion.
When Penn was 16, his father sent him to Oxford University. There he rejected Anglicanism and attended unauthorized prayer meetings. He was expelled for his religious nonconformity. His father then sent him to a Protestant college in France, where he completed his education.
At the age of 23, Penn again crossed paths with Thomas Loe and became a Friend (Quaker). He then wrote Sandy Foundations Shaken, a strident attack on Trinitarian doctrines. He was not yet mature in his faith, and the great twentieth century Quaker writer and scholar Elton Trueblood called this book "controversial and superficial." For writing the book Penn was imprisoned in the Tower of London.
Penn spent his time in the Tower of London productively. There he wrote the first version of his great masterpiece, No Cross, No Crown. This call to Christian discipleship was expanded in later years and has spoken to people over the centuries since. After his release from the Tower, he wrote Innocency with Her Open Face, in which he significantly modified the anti-Trinitarian position he took in his first book. Penn was a prolific writer, and later wrote a number of other works on his Quaker faith.
The Holy Experiment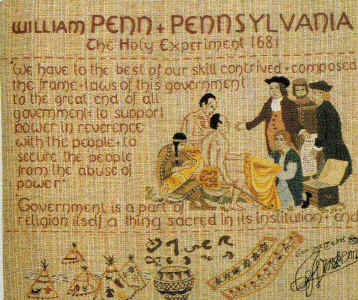 Holy Experiment panel from the Quaker Tapestry
True religion does not draw men out of the world but enables them to live better in it and excites their endeavors to mend it. - from No Cross, No Crown
One of the things Penn is best known for is being proprietor of the colony of Pennsylvania. In 1681, Penn and 11 other Quakers bought the proprietary rights to East New Jersey. In payment for a debt King Charles II owed his father, Admiral Sir William Penn, Penn persuaded the king to grant him a vast province on the west bank of the Delaware River. It was named Pennsylvania, which means Penn's woods, after his father.
Penn believed in a "divine right of government" and sought to form the government of Pennsylvania as a "holy experiment" in governing. His Frame of Government of Pennsylvania is considered by many to be ahead of its time. It set forth a representative form of government. Thomas Jefferson called Penn "the greatest law-giver the world has produced."
Penn and the Quakers provided a relatively enlightened government. The penal system was designed to reform not just punish, all prisoners except capital prisoners were entitled to bail, work houses were substituted for dungeons, and the the death penalty was limited to murder and treason instead of the 200 crimes in England. Public education was available for all children. Penn designed Philadelphia and other towns with a grid pattern of streets, buildings and public squares to promote health and fire safety.
Living in Peace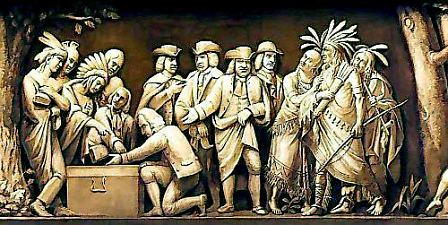 William Penn and the Indians Rotunda Frieze scene from the U.S. Capitol
As proprietor, Penn had opportunity to practice the Quaker peace testimony. Penn realized that much of the land to which he had been given a royal charter was held by the Delaware (Leni Lenape) Indians. Although the document has not survived, it is believed that in 1682 Penn signed a treaty with the natives who occupied the land paying them a fair value for its use by settlers. Voltaire wrote, "It was the only treaty made by the settlers with the Indians that was never sworn to, and the only one that was never broken."
Penn treated the native Americans ("Indians") with respect. He came among them without guards or weapons. He learned their dialects so he could negotiate with them without interpreters. His peaceful policies prevailed for several decades, after which those who opposed these policies came into control of the Pennsylvania legislature.
Penn's interest in peace extended beyond his own proprietorship. In 1693, he wrote a plan for the Present and Future Peace of Europe which included settling disputes between nations by arbitration instead of war. His plan is considered a prototype of the United Nations, and United Nations Day is celebrated on Penn's birthday, October 24 (also my birthday!).
Advocate of Religious Freedom

Penn & Meade's trial panel from the Quaker Tapestry
Considering that Penn was a religious nonconformist and a leading advocate of democratic government, it's not surprising that he played a significant role in working for religious liberty. Not only did he provide a welcoming environment for religious dissenters in Pennsylvania, but he was an important player in the struggle for freedom of conscience in Britain.
In 1670, Penn wrote The Great Case of Liberty of Conscience Once More Debated & Defended, considered by many the most systematic and thorough exposition of the theory of toleration in Restoration England. But he did far more that year than write about religious liberty. He was a key player in a landmark case in English legal history.
On August 14, 1670, the authorities having padlocked the Gracechurch Street Friends Meetinghouse in London, Penn preached in the street to several hunder people. Penn and William Meade were arrested and imprisoned on a charge of inciting a riot.
Penn used the trial to vigorously and effectively expose the illegality of the trumped-up case against him. Despite threats and abusive treatment, the jury refused to convict. The members of the jury were fined and imprisoned, but were vindicated by the lord chief justice on appeal. This case established the principle of independence of the jury in British law.

By William Penn
About William Penn
© by Bill Samuel. Do not reprint in whole or in part without prior permission of the author, except for limited quoting in accordance with "fair use" principles. You are welcome to link to this page.