With the publication by FGC Books of Sandra Cronk's journals and selected writings under the title A Lasting Gift, we are given to remember and honor the founding charism of this ministry as it was brought forth by its founders, Sandra ("Sonnie") and Kathryn Damiano.

Beginning her introduction to Sonnie's journals, Marty Grundy writes:
Many lives have been touched by Sandra Cronk's writing, teaching, spiritual direction, and mentoring. Her life gives witness to a profound understanding of a life lived in Christ. It, along with her teaching and spiritual companioning, provides a model for individual lives and raises a prophetic voice to the corporate body of the Religious Society of Friends.
Marty also quotes from Kathryn Damiano's draft proposal for the founding of this ministry:
This ministry arises from two concerns. The first is a recognition that God is leading some Friends to a life centered in prayer as an active witness in the world. (This leading parallels the way in which God calls certain Friend to work in such areas as peace and social justice.) This call to prayer is not a privatized or withdrawn life, but a life lived with God and shared with others. Prayer opens us to God's presence and draws us into Christ's work of healing the broken and wounded places in our lives and in our world.
The second consideration grows out of the awareness that many people, both inside and outside the Religious Society of Friends, have been yearning for avenues through which they might explore, more intentionally, the role of prayer and contemplation in a life of faith. Many Friends have also expressed a need for doing serious reflection and study on ministry and the call to live in faithful relationship with God. They would like to do this work within the context of a community of prayerful commitment.
Sonnie died in April 2000, just before the final residency of the fourth Spiritual Nurturer class. Following that class, Kathryn moved to Kansas and married Dorlan Bales (pictured below). She shares with Snapshots her life there.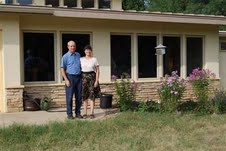 The School of the Spirit ministry has endured and has had a variety of incarnations since it was first given to us as a leading in the late 1980's. I am remembering one particular "Spirit storming" (a term borrowed from Bill Taber) near a former Shaker settlement where Sonnie and I were attending a conference. Here we fleshed out the need and function of oversight groups for the "On Being a Spiritual Nurturer" offering. Much faithfulness has been called forth to continue this ministry that was first entrusted to us. For this I am thankful.
From my continued call to the contemplative life, I hold "The School of the Spirit" ministry in the Light of Christ. As some of you may know, I moved to Kansas in 1999 where I joined The Friends of Jesus Community and married Dorlan Bales in June 2000. This intentional community, a ministry of presence in a low income neighborhood of Wichita, was layed down a few years ago. For the last four years Dorlan and I have been building a high thermal mass passive solar home. We have done much of the construction ourselves. I am also discovering what grows in Kansas and am using drought resistant native plants for the landscaping.
I also offer spiritual direction and teach in-depth spiritual life studies in a variety of venues. I have been studying the work of Ken Wilber for some years now and along with others are envisioning an Integral Christianity. Amazingly, I find myself teaching Quakerism at its best to those who will never be Friends. I'm finding that Quaker spirituality has many integral characteristics and often folks from a variety of traditions, who have outgrown their own traditions, are attracted to the spiritual maturity Quakerism can offer. I can imagine the Quaker spiritual ancestors being pleased that the original Quaker revelation has returned to a movement for those who continue to seek. Please pray for me as I walk more deeply in the Mystery of all this!
Kathryn Damiano
Upcoming: Dwelling Deep A Silent Retreat at Powell House
From Friday, 15 January, 2010 - 6:00pm
To Monday, 18 January, 2010 - 2:00pm
During this extended weekend, Friends are invited to enter more fully into the silence and to experience the deeper rhythms in which we might live. This retreat will include the opportunity for solitude, individual and corporate worship, silent meals, and "active" silence. There will also be opportunities for individual and group spiritual reflection. Come and simply BE with God; listen and attend to the Divine stirrings of the soul.
Linda Chidsey, a member of Housatonic Meeting, is a recorded minister in New York Yearly Meeting. She carries a concern for spiritual nurture and pastoral care. Linda has served as clerk of NYYM and is currently serving on the School of the Spirit board.
Carolyn Moon, serving as Linda's elder, is a member of Gwynedd Friends Meeting in Philadelphia Yearly Meeting. She serves on the board of The School of the Spirit.
Register by January 1st: $280 ($300 after January 1, 2010)
On Paying Attention, by Noah Baker-Merrill
Noah Baker-Merrill completed The Way of Ministry program earlier this year. These paragraphs open his recent article in the November 2009 issue of Friends Journal.
It's January of 2009 in a Philadelphia lockup, cell number 13. I'm worshiping in captivity, in the quiet, cold hours before dawn. The last time I was in prison, I was visiting Iraqi refugees detained in Jordan. Both that place and this one seem very far from where I live in Vermont. But God's love is here, and that makes it home.
I'm exhausted, aching from the cold steel bench I've been sharing with three other ministers for hours in the long night. Four men, space for two to sit and one to lie down, one toilet, and dry cheese sandwiches. The stories, the laughter, the asking and the answering, the songs of surrender and praise we'd earlier shared are silent now.
In a few hours, I am to learn I will be charged with several crimes for prayerfully obstructing access to the door of a business that supplies weapons used to kill people in the streets of Philadelphia. These charges will include "criminal conspiracy."
I'm reflecting on how I've ended up in prison, a place where so many of our spiritual ancestors were held as they sought to respond faithfully to the leadings of the Spirit in their lives.
Spirit and Me since SN6, by Penelope Wright
(Penelope completed the Spiritual Nurturer program in 2006. She is a member of Hanover Monthly Meeting, NH.)
It is our closing worship, for the last time we gather as this beloved community to honor each other and God. We hope to go out and serve God. As my heart-friends speak hesitantly and confidently of what they understand they are called to do, I listen in wonderment. For I have no clarity at all how God might use me. A bit of a nudge suggests that I am called to serve the Religious Society of Friends through strengthening and deepening the spiritual lives of monthly meetings. How is the mystery. An image of peaceful being comes to me, I am standing on the edge of a golden, breeze tousled field of grain - tall trees visible on the far side, I await the parting of the grain to show me the path to God's call.
Of some things I am certain;
I have been taught and tested by that mantra/quote from old F/friend Isaac Penington: "...be no more than God hath made thee. Give over thine own willing; give over thine own running; give over thine own desiring to know, or to be any thing, and sink down to the seed which God sows in the heart; and let that grow in thee, and be in thee, and breathe in thee, and act in thee, and thou shall find by sweet experience, that the Lord knows that, and loves and owns that..."
I will be sorting through and divesting myself of remnants of a life of 30+ years that has both fed me and sorrowed me
I will be returning home, back to that "thin place" where I feel at one with Divine and mortal, terrestrial and celestial.
I will be embarking on a totally new adventure - assisting in the design of and general contracting the construction of the home of our dreams
With that move I will be seeking to find my place in a new meeting, eased by the loving letter of introduction given by my birth meeting.
A few months ago, I awoke from a dream, realizing that I no longer stood on the edge of that field! By some means, I now stood near the center, no visible evidence of how I got there, but in my heart I believe I was faithful to that earlier, puzzling nudge. With uncharacteristic patience and guidance from a new Care and Accountability Committee, I am finding my place in my new meeting: a full member after asking for a clearness committee to consider transfer of membership (not the usual process of this meeting); as co-facilitator of well received series of Exploring Quakerism based on the series led in my former meeting as a testing of one way to deepen the spiritual life of a meeting; as member Ministry & Counsel where my main contribution has been to introduce the approval and recording of the minutes in the face of the meeting; and as back up provider of snacks for post worship fellowship. I am learning the joys of being in a yearly meeting that has quarters and how that provides Opportunities. I am pleased to have been appointed by my yearly meeting to continue serving on the Central Committee of Friends General Conference, which has long been a blessed and cherished school of the spirit for me.
My husband is fond of teasing me about being a perpetual student. In the past that usually meant academic endeavors, but now I find more and more that my learning is in that ethereal school of the Spirit.
---
© 2009, the School of the Spirit Ministry