Dear Reader,
In this issue of Snapshots:
From the Current Spiritual Nurturer Class
On Being a Spiritual Nurturer, 2012-2014
Mark Your 2011 Calendars!
Annual Report
Board
Opportunities with Past Program Participants
Robyn Josephs
Spiritual Accountability
---
From the Current Spiritual Nurturer Class

The current class of the program On Being a Spiritual Nurturer heard with great sadness of the death on August 1 of Sister Denise Mosier. Sister Denise was a visiting teacher at the February residency. She was killed in a car crash and two other sisters were badly injured. We were all moved by how the story unfolded, testifying to the reality that Christ's forgiveness is already present. As Sister Cecilia Dwyer said in her funeral address:
Other SotS News, including The current Spiritual Nurturer class
The lessons that we take from Denise's life are lessons of tolerance and forgiveness and acceptance and inclusiveness. We all know that she would have been the first to forgive the young man who caused the accident – not excuse – but forgive, and she would have done so with compassion. We all know that her inclusive spirit would not want her death to be a rallying point against undocumented persons as it has been this week. I know that our sisters want to honor Denise's spirit by offering compassion to Carlos and his family and by holding them in prayer. We hope you can do the same. As one of our sisters said to me on Monday, how can we NOT forgive, it is the message of Jesus' life.
More can be read on the website of the Benedictine Sisters of Virginia. The letter which the class sent to the Sisters following Sister Denise's visit expresses the love that she brought to us. It said in part,
She shared selflessly, with an open heart. It was through her love and through her joy in her life and faith that we learned of the Benedictine Rule. She offered the information like a plate of treats that drew us in and made us eager to incorporate it into ourselves. We are changed people because of her joyful presence with us. She engendered a deep sense of humility and forgiveness among us. She presented obedience along with joy and fulfillment, and this challenged us in our understanding and practice of obedience in our faith communities. We were moved by her willingness to be vulnerable and her courage in sharing deeply with us. We were opened to the beauty of Benedictine spirituality and felt the connections with Quaker faith and practice.
A member of the Spiritual Nurturer class was able to travel to her memorial on August 6, 2010 and represented us all.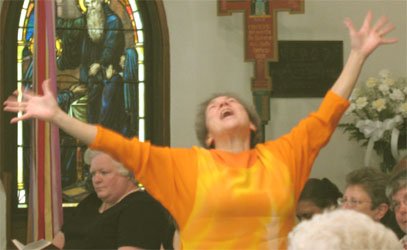 An ecstatic Sister Denise
Sister Denise embodied Christ's spirit fully. At its most recent residency, the current Spiritual Nurturer class loosened up with a day of InterPlay led by Friends Peter Buck and Joy Anna Hodges. Through dance and story-telling, we learned about the wisdom of the body and cut through our deep-seated shyness to release the Inner Teacher.
Members of the current Spiritual Nurturer class during a day of InterPlay at the 5th residency
At the end of the day of InterPlay, the class settled into an evening of Active Silence, being together in that place beyond words.
Members of the current Spiritual Nurturer class during the Active Silence at the 5th residency
Forward this newsletter to a friend
---
On Being a Spiritual Nurturer, 2012 - 2014
SotS continues to plan for the next Spiritual Nurturer class beginning in the fall of 2012. Please let us know if your meeting would like to host a Testing the Waters retreat sometime in the second half of 2011 or early 2012.

January 14 - 17
Dwelling Deep A Silent Retreat, at Powell House
June 17 - 20
Living from the Divine Center A Contemplative Retreat, at Powell House
Sept. 30 - Oct. 3
A Silent Retreat, at The St. Raphaela Center, Haverford, PA
For all who wish to experience a silent retreat, with a particular invitation to those
who may be called to the facilitation of silent retreats.
Registration materials will be available in the new year.
Nov. 10 - 13
Spiritual Renewal Weekend, at the Franciscan Spiritual Center, Aston, PA
For past SotS program participants. Registration materials will be available in the new year.
Annual Report - Our 2010 Annual Report is now available and can be read here.
Board - In August, Janis Ansell (Rich Square Monthly Meeting, NCYM-C) informed us of a different call to ministry that moves from service on the SotS Board to a ministry with her husband Charlie in response to the Call to "follow me" and to "feed my sheep." Janis and Charlie are relocating to Alamance County, NC as a first step in living into this ministry. We wish them Godspeed, with deep appreciation for Janis' dedicated service on the Board.
We welcome on to the Board Angi York Crane (Dover-Randolph Monthly Meeting, New York Yearly Meeting) and John Carle (Alexandria Monthly Meeting, Baltimore Yearly Meeting). John writes,
I have been a Friend all my life, not in the "membership" sense, but in the sense of a universal belonging in which I light-up when sharing an ongoing conversation with God. When not temporarily shoved aside allowing life's demands to dominate, this conversation constantly informs and reveals the wonders and joys of life as it is and as it could be for everyone.

Being a generalist, I have a number of acquired skill sets that see me through accomplishing tasks which I probably have no business taking on, but do so out of community need and my own curiosity. My pedagogical training as a teacher has helped me to view tasks as a logical progression from an idea to the finished goal, but is not the total picture. Taking on any task and organizing a way forward becomes for me a partnership with God. Together with my spiritual friend Jesus, I am led, keeping the process simple and moving forward.

My reason for responding to the call to serve on the SotS Board, while many layered and filled with self-created doubts and the usual time constraint barrier dance, came down to a fervent prayer to do whatever possible to ensure the continuation of the SotS Spiritual Nurturer program for others to benefit from as I have benefited. This program quickly made me aware that this ongoing conversation with God was truly a gift from God. A gift to be valued, trusted and shared.
John also treads the boards and teaches line dancing!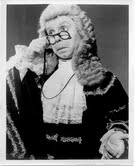 ---
Opportunities with Past Program Participants
Robyn Josephs, a participant in the 2002-2004 On Being a Spiritual Nurturer program, is offering opportunities for silent refuge September through May in Montreat, NC. Both days of silence and residential stays can be arranged. Please email or call for more information and available dates. (forrestwife@yahoo.com / 828-669-8134 / 828-707-4018)
The vitality of our meetings and of Quaker practice depends on our supporting each other to be faithful in our personal lives as well as in our corporate leadings and ministerial endeavors. Intending to nurture Friends' faithfulness, three offerings on spiritual accountability will be led by Marge Abbott, Noah Baker Merrill, Viv Hawkins, Laura Melly (elder), all from The Way of Ministry program, and Jim Lyons.
Exploring Spiritual Accountability is a weekend workshop (January 21-23, 2011 at Woolman Hill Retreat Center) to engage such concepts as: how people's gifts in ministry or service can be nurtured by their faith community, the practice of anchoring and oversight committees, and meeting encouragement of an individual's deeper growth into faithfulness. This workshop is intended for anyone who wants to better understand these concepts, including those who want to know more about how their meeting can support emerging ministry or calls to service.
Practicing Spiritual Accountability includes an opening weekend residency, on-line coursework, and small group homework to practice a corporate spiritual accountability process to ground ministry; foster radical faithfulness to Spirit so we more fully serve our God and our world; and nurture corporate spiritual formation within monthly, quarterly, and yearly meetings. Participants will be presently engaged in or committed to begin, by the weekend retreat, this small group process. The first offering will be held at the Burlington Conference Center, Burlington, NJ November 5-7, 2010 with homework and on-line coursework to continue into February 2011. A second offering will be at Woolman Hill Retreat Center, Deerfield, MA January 21-23 continuing into April, 2011.
For more information and registration, visit www.bhfh.org/qsp/. Questions about registration can be addressed to qsp@bhfh.org or, about course content, to Viv at friendviv@gmail.com. These offerings are co-sponsored by the Quaker Studies Program, Woolman Hill, New England Yearly Meeting Ministry & Counsel Committee, and Philadelphia Yearly Meeting's Spiritual Formation Working Group.

---
Clayton Swartzentruber - For those of you who were members of the early classes of the Spiritual Nurturer program, you may remember the presence of Clayton Swartzentruber, accompanied by his wife Margaret, as a visiting teacher. Clayton died on August 12 and you can read his obituary here.
---