Your online source for information about the Religious Society of Friends (Quakers).

Except for a few reprinted old documents, articles on this site are copyrighted by the author, and may not be reprinted without permission. You are, however, free to link to any article or page on this site without prior permission although it's nice to know who's linking to us.

Bill Samuel
Webservant
QuakerInfo.com
Future of the Friends Church
Review by Bill Samuel
Originally published October 8, 2001 at Suite101.com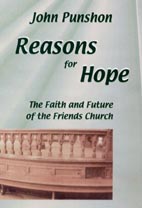 This is a review of Reasons for Hope: The Faith and Future of the Friends Church by John Punshon, Friends United Press, Richmond, Indiana, 2001 (click on cover image to order). Punshon is recently retired as Professor of Quaker Studies at Earlham College and Earlham School of Religion. He is a member of First Friends Meeting in Richmond, Indiana, and a recorded minister in Indiana Yearly Meeting of Friends. His other books include Portrait in Grey, Patterns of Change, Encounter with Silence and Testimony and Tradition. I got to know him on a Quaker study tour of England he led.

The scope of what is covered in this book is amazing. The publisher calls it "a mini-course in evangelical Friends theology, Church history, and philosophy." The vast sweep of its intellectual coverage is to support his views regarding the future of evangelical Friends in the United States. By evangelical Friends, he means all Friends with an evangelical perspective both inside and outside of Evangelical Friends International.

Punshon does not offer a definition of evangelical because it "is ambiguous in practice." (page xv) I can appreciate that, but one also needs to understand an author's terms of reference. It seems to me that there are two main approaches to using the term. One, which appears to be Punshon's, is to focus on the use of evangelicals of the Bible as the fundamental source of our knowledge about truth. The other, which to me resonates more fully with the tradition of Friends and tracks with the root meaning of the word, is to focus on the yearning to spread the Gospel and fulfill the Great Commission. I believe Punshon would have done better to make the latter choice.

Probably the book's greatest contribution is its explication of key traditional Quaker understandings with attention to how they can fit within an evangelical perspective. The broad breadth of his analysis includes the actual message of early Friends, how it fits into the wider Christian tradition, and how it fits with human nature. Much of the book constitutes a modern apologetic for Quaker understandings. It should be much more accessible to modern evangelicals than many defenses of Quaker testimonies, as it is written with the perspectives of this audience particularly in mind. Punshon approaches early Quaker doctrines as a point of departure for a distinct line of doctrinal development rather than a fixed point from which there should be no deviation.

Punshon also looks at the "postmodern" culture to see where evangelical Friends might fit in. While some have seen postmodernism as fundamentally inimical to the Christian faith, Punshon feels it provides a place to stand that didn't exist with modernism. Postmodernism looks to interpretive communities, and Punshon observes that the church is an interpretive community par excellence. He notes, quite correctly in my view, that the postmodern church needs "to lead its members to it by means of experience and tradition rather than argument." (page 351) Friends with an evangelical perspective would do well to heed this wise advice.

Punshon urges a strengthening of the Quaker roots of evangelical Friends, focusing on the nature of worship and the importance of Friends distinctives. He argues that open worship is the heart of Quakerism, and finds no necessary contradiction between a focus on open worship and the use of programmed elements in Friends worship. He also argues that Friends distinctives are not only soundly based, but provide an opportunity for Friends to have a distinct identity and niche within evangelicalism. Each strain of Christianity makes its own contribution to the whole, and the Quaker contribution is needed. Without distinctives, there is no good basis for the continuing of the Friends church as a separate entity.

What I found very disconcerting about the book was that it did not seem to be either Quaker or evangelical in character. The highly intellectual, academic style of the book seemed to contradict what it actually said. I found myself wanting to resist it, even though I generally agreed with its message. Punshon asserts the primacy of experience, which in both the Friends and larger evangelical traditions is often reflected in an approach to religious writing involving many references to how God has worked within the life of the writer to illuminate the truths being expressed. These are absent from this book, leaving the reader without support from the spiritual experiences of the author.

I also found disconcerting the lack of mention of the need for prayer and a heart for the Great Commission as key elements in the future of the Friends church. This may be because these are elements which are both part of the broader evangelical perspective rather than Quaker distinctives, and ones which are widely acknowledged as essential within the Friends church; neither of which is true about the elements Punshon emphasizes. However, it needs to be explicitly recognized that the future of Friends is not assured by its leaders having a correct analysis. It requires a people earnestly seeking God's direction and on fire for Jesus Christ. I also was surprised that he followed reporting that 44 per cent of Americans are unchurched with a statement that "the prospects of major expansion seem limited." (page 359) This is not the response one would expect from an evangelical.

While there are aspects of the book I found disturbing, it does have much to offer. I believe that some of its lines of argument will provide much food for consideration by Friends with an evangelical perspective for many years.

© by Bill Samuel. Do not reprint in whole or in part without prior permission of the author, except for limited quoting in accordance with "fair use" principles. You are welcome to link to this page.